Hyperlocal concierge app Dunzo works on one principle – getting your task done in the quickest possible time. What started as a hyperlocal personal task management platform in Bengaluru on WhatsApp is now a full-fledged automated app-based service present in three other cities – Gurugram, Hyderabad, and Pune – and soon to start in Chennai as well.
A couple of years back, Dunzo was carrying out all kinds of tasks all across Bengaluru. And keeping it all running smoothly was a small team of assigned tasks, ensuring they were completed and then re-assigned to the next set of orders. The personal attention made sure that customer satisfaction and trust in Dunzo stayed high. The hyperlocal task-management startup shot to fame nationally when it became the first company in India that Google invested in, putting up $12.3 million. But how do you scale operations like that to more than one city and beyond and make sure that things run smoother than ever and make money?
Doing it all for you.
If you haven't used Dunzo, here's how it works – you download the app and can request an errand. Forgot something at home and need it at the office? Ask for a pickup-and-drop. Need your dry-cleaning fetched for an important meeting the next morning? Just hand over the receipt and have them deliver it to wherever you are in the city. Have a document to be photocopied and delivered to your bank manager? Dunzo will do it for you. It also has partnerships with various restaurants, grocery stores, pharmacies, pet supply stores, meat shops, etc., from where you can shop directly from within the Dunzo app and have them deliver it to you anywhere in the city.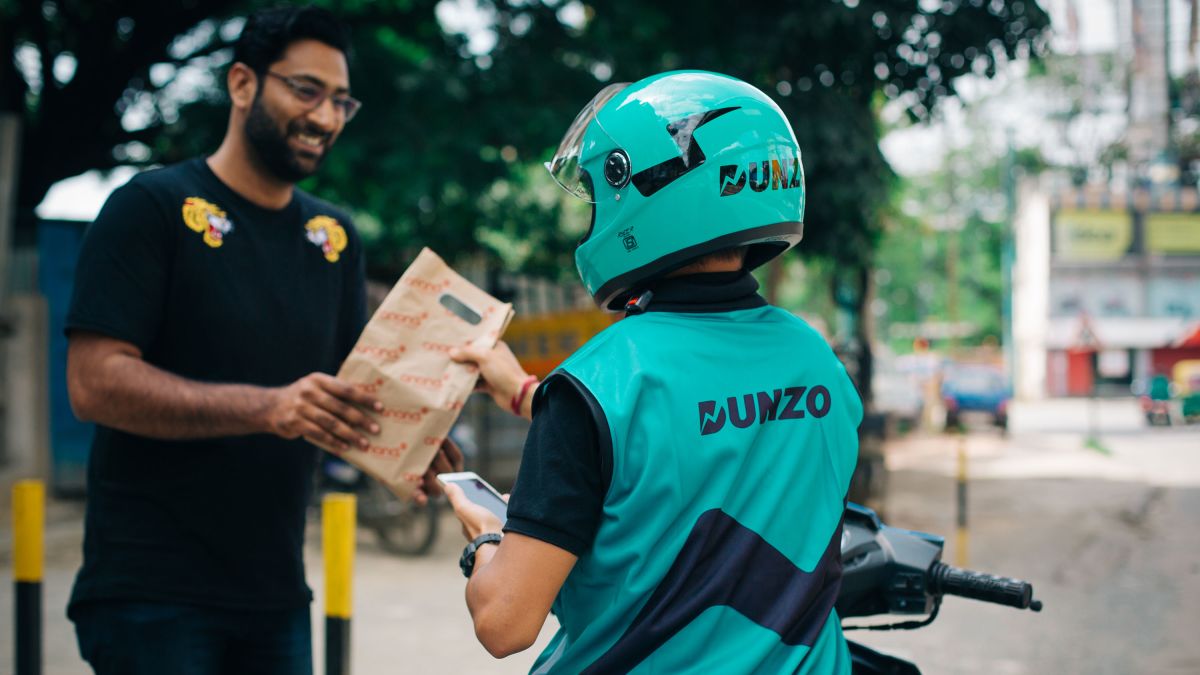 In terms of food delivery, their advantage lies in delivering from restaurants from anywhere in the city, whereas most food delivery startups deliver only around a certain radius. Today, 80 percent of their tasks are completely automated and run without any human intervention. It's what has enabled them to scale. In October this year, Dunzo completed over 1 million transactions to date and completed an average of 30,000 transactions every day from across four cities. "In 2015, most of our tasks required a human to monitor and run them. Now over 80 percent of our tasks run without any human intervention," says Mukund Jha, Co-founder and CTO.
How it works now
From a WhatsApp-based model, this hyperlocal "task running" business evolved into a rudimentary app, where customers can create a list of whatever tasks they need to be done. "Over time, we have made this simpler by seeing what tasks are the most done on the platform and creating buckets – pick up and drop (send packages), food or restaurant orders, groceries, medicines, meat, pet supplies, fruit and vegetables and more," says Kabeer. Mukund adds that a lot of these tasks were done manually before. Today, every transaction is broken into accepting a task, assigning a delivery executive, location, item confirmation, and money transfer.
Earlier, an employee would check if a delivery partner was available and assign tasks accordingly. Once this was confirmed, a conversation would be initiated between the user and the partner with constant monitoring to see if the latter was moving towards the pickup location and then headed towards the drop location. Mukund says,
Dunzo has a built-in merchant and product tie-ups and has focused on cataloging to add a layer of automation. Now, stores and restaurants have a list of items that make it easy for users to choose their items.
Currently, Dunzo charges its merchant partners a commission percent ranging between 10 and 12 percent of the total delivery cost. The company has tied up with over 350 merchants across the four cities it operates in. With these tie-ups, the team ensures that the store or merchant gets the details of the order to accept and keep the items ready, and the Dunzo partner picks it up and drops it at the drop-off location specified by the user Swiggy or Zomato. The sheer complexity of tasks it can carry out means that it is fast becoming a verb – just Dunzo.
Says Sandhya, a 34-year-old marketing professional based out Bengaluru, "Dunzo has given me the power to prioritize my tasks. I don't need to drop everything I am doing and run to pick something up. If I have forgotten to buy medicines because it was a busy day, I can get them delivered to my doorstep with zero hassle. From a dress to my food or urgent papers, I just Dunzo everything."
The right partners for the right tasks (backed by the right tech)
So, what if the order flow is a little more complicated – pick up some papers from home, photocopy them and then deliver them to your office?
"We work on matching the right partner to the right task. For this particular example, we would need a partner who has done over 100 tasks and has an 85 to 90 percent approval rate. Assigning depends on the task, store, and neighborhood," says Mukund. Once a customer confirms an order, the algorithm checks the type of task, store location, looks for the item list, and helps estimate the supply time to reach the store and the estimated arrival time.
"The runner needs to know the cost he makes out of the transaction, which is typically Rs 65 or Rs 90, depending on his ratings. The delivery partner sees the value of the transaction and accepts the button, and if the pickup location is within 3 km," says Kabeer. The incentives are dependent on two things – the number of orders completed and the nature of the order (a more complicated order might have a higher incentive vis-a-vis a simple, straightforward order like buying a soft drink bottle from a neighborhood store).
A complicated task like buying a month's supply of groceries will give the partner an incentive of Rs 90, while buying a packet of chips or a soft drink bottle will give Rs 65. But the costs and amounts vary on the city, the area, and the type of tasks. "Now, the entire delivery cycle takes 35 to 38 minutes. Earlier, it would take 45 minutes," says Kabeer.
Bike taxis for the win
What has helped optimize this is the launch of bike taxis, which they have currently piloted in Gurugram. Kabeer explains that this helps reduce the cost per transaction, as they are also gaining from a ride. "The value of the transaction is pre-determined by the algorithm, which makes it simpler to communicate the same to the user," says Kabeer. The algorithms base historical data, behavioral patterns of consumers in different areas and predict when the demand will be high or low.